Legal Services Scotland
Our Team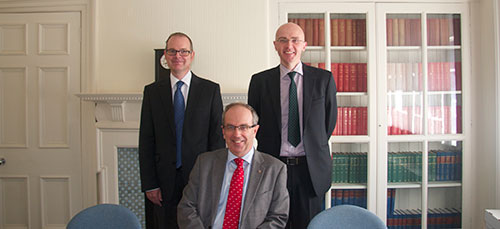 ---
Gordon Young trained in a large

Edinburgh

firm qualifying as a solicitor in 1985. He joined P&K the same year and became a partner in 1990. Gordon's areas of expertise are Family Law, particularly Separation Agreements and Divorce, Compromise Agreements in employment law, Debt Recovery and Guardianship under the Adults with Incapacity Act.

Stewart Robertson has about 25 years experience in both residential and commercial conveyancing and also deals with land buying. He has a wide experience in commercial leasing and security work. Normally based in Linlithgow, Stewart will usually be found in our Mid Calder office on Monday and Friday afternoons.

David Vause has been with the firm for 20 years and has a wide experience in residential and commecial conveyancing. David has acted extensively for developers in the past and can advise on a wide range of property issues. David works in Linlithgow all week except on Tuesday and Wednesday afternoon when he can be contacted at our Mid Calder office.

Gordon Galloway is a very well respected Court Lawyer with an unrivalled knowledge of Court rules and Procedures. Gordon Galloway was a partner with us for 20 years, before becoming a consultant.

John Donnelly joined the firm in 2005 having qualified as a solicitor with a large Edinburgh law firm. John specialises in residential conveyancing.

Tonia has over 30 years experience, mostly gained with a large Edinburgh firm. Tonia heads our Wills and Executries Department.

Carolyn McLaughlin, Property Manager at our Linlithgow office, has advised extensively over the years in the sale of properties, large and small, in Linlithgow and surrounding areas. Carolyn has a wide knowledge of the local market, especially Linlithgow and Bo'ness where she is the Estate Agent of choice for many.

Kathy Easton, Property Manager at our Mid Calder office has over 20 years experience in the residentual property market, including new home sales. Kathy enjoys an extensive knowledege of the local market and her familiarity with the Mid Calder and Livingston area makes for a comprehensive awareness of ongoing market conditions.